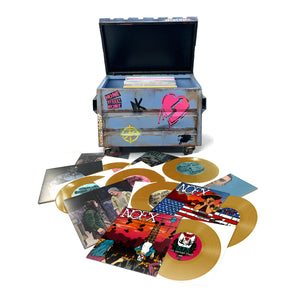 All 50 Home Street Home 7"s pressed on gold vinyl.

4 NOFX bonus 7"s on gold vinyl (only 100 made). 

A hand-painted, welded steel dumpster to stash your vinyl (hand-painted and hand-numbered dumpsters are exclusive to gold and silver sets). 

FREE e-Diver Access included: Early access to alternate digital versions of the Home Street Home recordings. First digital delivery expected in June. 

Only 100 sets available. 
10 total shipments. Dumpster included in first shipment.  
First shipment expected to go out late July 2020. Shipments will continue on a monthly basis. Shipping timeline subject to change.